SAVING ENERGY TECHNOLOGY - OPTIMAL INSTALLED EQUIPMENT
To meet the requirement related to space problems for the physicochemical systems, GreenWorld has developed the G.NbAF® flotation system upgraded from classical flotation technology combined with specific chemical mixing equipment in order to:
Reduce the weight of the treatment module;
Optimize the flotation process with gas control;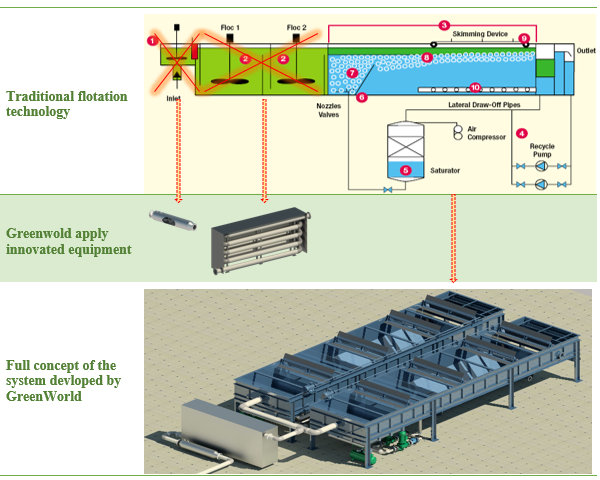 Principle of operation
Air bubbles are introduced into the water in small sizes;
Air bubbles adhere to the insoluble compounds in the wastewater to form a homogeneous form between Solid – Air bubbles;
The number of solid-binding with air bubbles increases over time until the mixture of Solid - Air bubbles has smaller density  than water and rises to the surface;
Solid – Air bubbles

 

mixture floats on the surface forming the scum layer.
This scum layer is removed away from the surface by the skimmer.
Diverse designs of G.NbAF®:
Depending on the actual conditions of space - loading rate, G.NbAF® is designed with the shape and material in accordance with the requirements and not encapsulated within a certain framework.

Specific equipement
In order to increase the efficiency - optimize the space as well as the efficiency of the physicochemical process, GreenWorld designs specific equipment for the process of coagulation - flocculation before going into G.NbAF®.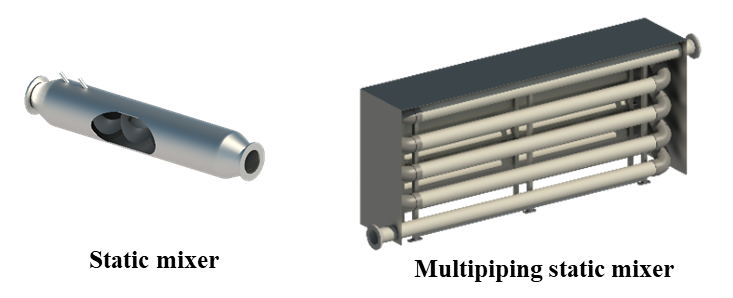 The differences of G.NbAF®:
Flexibility according to the characteristics of wastewater;
Technology of creating air bubbles - Size of micro/nano air bubbles;
Small - compact - easy to move based on both size and weight ;
Minimize the usage of equipment and noise during operating;
Low operating pressure, high safety;
Fields of application
Aquatic production;
Natural rubber industry;
Food industry;
Oil contaminated wastewater;
Textile dying factories;
Beverage production factories;
Pharmaceutical production;
...
Brochure